If you love Detroit, you might just love a good dive bar. There is nothing more quintessentially Detroit then some windowless joint on the corner with only a High Life sign and a blinking light beckoning passersby to see if there is anyone inside.
Detroit may be poor in some areas, but it is rich in dive bars. The very layout of Detroit begs
to be covered with saloons. Going back to the days where auto factories dominated the landscape, the neighborhoods are laid out in a fashion that craves a tavern at the end of every few blocks. Many of those watering holes have since fallen to decay, disappearance, and gone the way of the Packard Plant, but what about those that haven't?
Those proud survivors. The ones bravely serving up ice cold High Life and $2 dollar shots while so many bars and restaurants simply want to shake down their patrons with $14 martinis and $8 drafts.
To some outside of the Motor City when they hear the phrase "Detroit dive bar" they most likely flip through a quick reel of pistol whippings, stabbings, or waiting for an ambulance after being shot in a parking lot. We on the other hand have found a fantastic array of watering holes offering up endless septuagenarian bar tenders, eclectic juke boxes, two dollar Stroh's, and gut-tightening laughter.
We here at Hell Yeah are no strangers to a dive bar. It is the kind of place where you can rub elbows with a local attorney, journalist, poet, performer or the borderline derelict (like ourselves), and if you remember it, be all the better for it. We have been compiling a list of our favorites the last couple of years. This list is by no means definite or one to end the discussion. We invite you, the reader, the drinker, to write us and agree or disagree, offer us up your suggestions. We'll have to hoist a glass in your favorite dive to decide, but it will be our absolute pleasure.
---
The Two Way Inn
17897 Mt Elliott St, Detroit, MI
The oldest bar in Detroit. Proudly serving since the 1840's. It is Not only fun, cheap, and bizarre, but also haunted. A must stop on Mt. Elliot. The owner is almost always there grilling up something tasty and with $2 Stroh's, PBR and Fireball shots, this is our favorite place to take a ride on the dive bar train.
---
Nancy Whiskey
2644 Harrison St, Detroit, MI
Located in North Corktown, this bar is in one of the up and coming neighborhoods in Detroit. This is where they drink. It's half city, half country out this way, and you might find a pheasant or two to share your brew with you. It's also home to a wild St. Patrick's Day Party every year. Fun fact: It is the birthplace of this site, spawned over some cheap beers and Tullamore Dew. Forget a hospital, this baby was born on a picnic table.
---
Old Miami
3930 Cass Ave., Detroit, MI
No matter how hard we tried to scratch the Old Miami from this list, it kept making its way back in. So many silly, saucy and strange memories of this place. Has to be part of any dive bar list from Detroit. Originally set up for Vietnam vets this saloon is a must stop on any Detroit bar crawl.
---
My Dad's Place
14911 Kercheval Ave, Detroit, MI
An east side staple. Comfortable like your grandparents' basement if it had 40 seats and every liquor you could imagine. All the dive bar staples, fun bartenders, good jukebox and great, quick food to help you enjoy all the good drinks.
---
Greenwich Time
130 Cadillac Square, Detroit, MI
Located right in the heart of downtown, a few blocks from Campus Martius this is a long time favorite of journalists and businessmen alike and is home to great cheeseburgers and the hands down the strongest Long Island in Motown.
---
Kwicky Bar
4130 E 8 Mile Rd, Detroit, MI
One of our absolute personal favorites. Extremely nice bartenders, High Life on tap, mixed, exciting crowd, live entertainment and playfully located on 8 Mile.
---
Marshall's Bar
14716 E. Jefferson Ave., Detroit, MI
Been told a time or two to avoid Marshall's. Couldn't do it. This place is your quintessential Dive Bar. Dark, somewhat creepy, $2 cans of Milwaukee's Best. Jukebox. Love this place.
---
Jumbo's
3736 3rd St, Detroit, MI
Located on 3rd street, just outside of the Cass Corridor. From the outside Jumbo's looks like a large cement shoe box and may turn the weak-hearted away. But inside you'll find kind barkeeps, cheap drinks and reasonable snacks.
---
Comet Bar
128 Henry St, Detroit, MI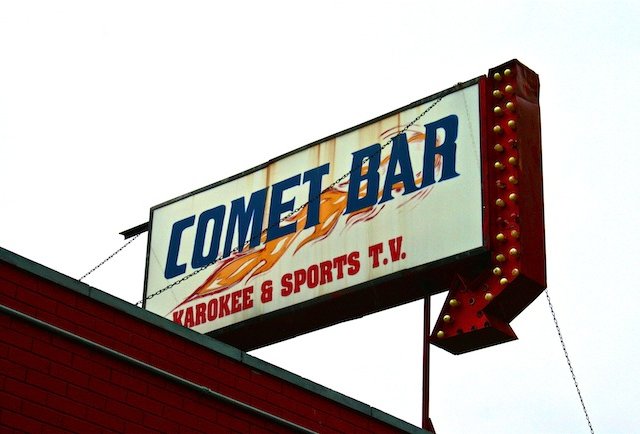 The Comet Bar provides some of the best people watching in the Motor City. Not to mention some of the best damn blues outside of New Orleans. If you like $2 Black Label beer, this place may just become your home away from home. The new Red Wings arena will demolish the Comet Bar, we left it on the list to pay our respects.
---
The Painted Lady
2930 Jacob St, Hamtramck, MI
A Hamtramck staple. A one time speak easy. Home to retro arcade games. Killer drink specials. Gets a bit rowdy after midnight, and like any legendary dive bar has residents upstairs.
So after reading this list.. what places would you add? Here are ten more we wrote about.
Comments
comments